Calphalon Nonstick Cookware: A Reliable Choice for Effortless Cooking and Cleanup
Simply Calphalon Ceramic Nonstick Set 10-Piece Black is designed for perfect nonstick cooking and easy cleanup. The Calphalon nonstick surface makes it easy to cook food consistently. The nonstick surface comprises interlocking layers combined with a hard anodized outer surface. Not only does this keep food from sticking, but it helps heat evenly, so food turns out better.
The heavy-duty pots and pans are sturdy and comfortable to handle. They can even be placed in the oven for final cooking or to keep food warm until it is ready to serve. The Simply Calphalon 10-piece cookware set looks excellent, works well, and helps do cooking and cleaning up easier.
Who Is Simply Calphalon Ceramic Nonstick Set Designed For?
The Simply Calphalon Ceramic Nonstick Cookware is designed for everyday cooking. Because it is easy to cook with and easy to clean, anyone can use it. Whether you are a professional or budding chef or just need to make everyday meals for the family, this set is perfect. The ten-piece set includes the following:
8-inch frying pan and lid
10-inch frying pan and lid
1-quart saucepan and lid
2-quart saucepan and lid
3 quart sauté pan and lid
Important Features
Calphalon's nonstick surface ensures hassle-free cooking and easy cleanup. Free from PFOA chemicals, the ceramic coating prevents food from sticking and creating a mess while cooking.
Exceptional Performance for Consistent Results
Crafted with rugged anodized aluminum, this cookware facilitates fast and even cooking, guaranteeing consistently delicious meals. It can be safely used in the oven for final cooking or keeping dishes warm until serving.
Effortless Cleanup with Nonstick Convenience
Thanks to the nonstick ceramic surface, cleaning up is a breeze. While it's recommended not to use a dishwasher, a simple wipe with dish soap and water will suffice. The nonstick coating ensures no stubborn food residues are left behind.
Sleek Design with Enhanced Functionality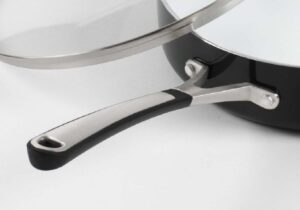 The Simply Calphalon cookware boasts a sleek appearance, featuring black pots and pans with stainless steel handles covered in silicone grips. The ergonomic design offers a safe and comfortable grip, while the tempered glass lids allow easy monitoring of food without lifting them. The domed lids help retain moisture and add a touch of sophistication.
Durable Construction for Long-lasting Use
Built to last, Calphalon cookware is sturdy and dependable. Whether resting on a stove or countertop, it remains stable even when empty or full. Crafted with durable materials, the Simply Calphalon line is designed for everyday use.
Experience the Benefits of Calphalon:
– Excellent Nonstick Surface: Say goodbye to sticky food and messy cleanup.
– Even Heating: Enjoy consistent cooking results with the anodized aluminum construction.
– Sturdy and Dependable: Quality materials ensure durability for long-term use.
Invest in Calphalon cookware to elevate your cooking experience and simplify your cleanup routine.
Frequently Asked Question (FAQs)
Question 01: Do any lids fit the two smaller skillet pans?
Answer: No lid fits the smallest skillet: the two big skillets and the Big pan interchange.
Question 02: What are the product dimensions and shipping weight?
Answer: Product Dimensions: 22.5 x 10.5 x 13.8 inches ; 16.9 pounds & Shipping Weight: 16.8 pounds
Tips For Using This Cookware
Using Calphalons Simple Ceramic Nonstick Cookware turns cooking into an easy task. There are many great uses for this convenient cookware.
It is not necessary to use remove the lids during cooking. The domed tempered glass allows you to view your food during cooking. This will not disturb the cooking process.
Because the cookware is safe to put in the oven, it will keep food warm before serving.
Do not use metal on the nonstick ceramic surface. This will prevent scratching.
One bonus about using a nonstick cooking surface is that you do not need to add oil. Oil is not necessary to keep food from sticking. Even if you like to add oil to your food, you will not need much. This helps keep meals lower in fat and better for your health.
Final Verdict
Simply Calphalon Ceramic Nonstick Set 10-Piece Black is a great starter set or addition to your cookware. The nonstick surface is chemical free and safe to use. It keeps food from sticking and becoming messy during cooking and makes for a quick and easy cleanup. The pots and pans heat fast and evenly and can be used in the oven to keep food warm.
The ten-piece black and stainless steel set is sleekly designed just as professional cookware. The handles stay cool and are ergonomic, making them comfortable to hold and maneuver as you cook. This Calphalon set is a quality made cookware set made to cook beautifully and built to last.