Are you looking to invest in ceramic cookware? I can list several reasons why choosing SilverStone Ceramic CXi Nonstick 12-Piece Cookware Set are the best inexpensive bet. With cookware sets evolving from metal to alloy and finally nonstick, most people have concerns about the chemicals they could be ingesting while using nonstick cookware. However, allow me to alleviate your fears.
Ceramics is an age-old natural material and has no chemicals. It not only adds elegance to your kitchen but also allows you to whip up healthy meals, whether simple everyday dishes or delicious recipes for special occasions. SilverStone Ceramic Cxi further facilitates this because it is eco-friendly and comes with remarkable features.
SilverStone Ceramic CXi Nonstick 12-Piece Cookware Set includes:
1.5qt/1.4L covered saucepan
3qt/2.8L covered saucepan
6qt/5.7L covered stockpot
8″/20cm open deep skillet w/ cushion smart technology
10″/25cm open deep skillet w/ cushion smart technology
3qt/2.8L covered saute (2) Prestige nylon tools
slotted turner
slotted spoon
Features That You Should Consider-
Design: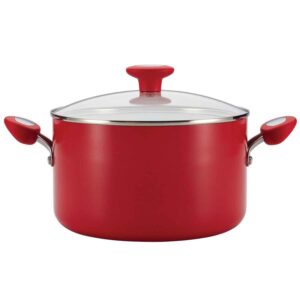 I mentioned that SilverStone Ceramic CXi Nonstick 12 Piece Cookware Set adds elegance to your kitchen. This is due to its gorgeous, color-popping, eye-catching design.
This cookware set is made of aluminum with ceramic nonstick. If you like red, then you are in for a treat, as the chili red exterior looks amazing. Mango yellow and marine blue also attractive that are also available.
In addition to its white ceramic nonstick interior, the design is fun and inviting. Its unique finish makes it stand out and will definitely lure you into cooking more!
Convenience: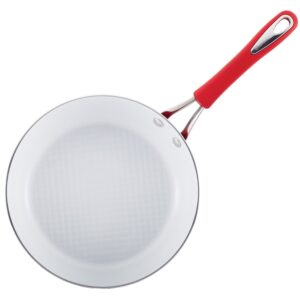 SilverStone Ceramic Cxi has healthy ceramic nonstick that gives it easy food release qualities and makes for easy cleanup.
This cookware set is oven friendly for up to 350 degrees Fahrenheit and dishwater safe, making it more versatile and easy to maintain respectively. The added convenience of glass lids is a plus. This is because it makes it easy to keep track of your meal's progress without prematurely lifting the lids off.
Built:
Made of sturdy lightweight Aluminium, SilverStone Ceramic Cxi's construction allows for fast, even heating from base to side. This enables the food to cook evenly. It has white ceramic nonstick that is scratch resistant when using its nonstick items.
The sturdy Aluminium gives the cookware a nice balance. Thus, they do not slide while on the stove. To top it off, the cookware is not very heavy due to the lightweight Aluminium and can be easily lifted.
Performance:
This set gives a high performance due to its design and build. It also has rubberized double-riveted contoured handles. These are easy to handle because they provide a solid and comfortable grab.
They also stay cool longer on high heat, making it unnecessary to use heavy gloves each time you check on the food. This translates to a cooking session that is fun and fulfilling. The price range is competitive, and buying these pots and pans gives you better performance and is worth your money.
Eco-Friendly Healthy Ceramic Nonstick:
SilverStone Ceramic CXi Nonstick 12 Piece Cookware Set places utmost importance on healthy cookware. For this reason, their ceramic nonstick does not have PFOA, PFTE, and cadmium and can, therefore, not release any dangerous fumes, even in the case of overheating. This makes it easy meal release and cooks healthier meals. The ceramic is also durable and super easy to clean and maintain, requiring only soap and water for effective cleansing.
The elegant design is gorgeous and brings out the chef in you.
The cookware set is solid and durable.
Sturdy, comfortable handles enable easier handling.
The set is oven safe for up to 350 degrees Fahrenheit.
Glass lids help you view food's progress without lifting.
Silverstone Ceramic Cxi is of high quality despite its reasonable pricing.
It is easy and fast to clean.
Healthy and Eco friendly to boot.
Handwash is recommended, and some cooks may be too busy to comply.
The size variety in the cookware set is limited as the large pots and pans are almost the same size.
Frequently Asked Question
Question 01: Do any lids fit the two smaller skillet pans?
Answer: No lid fits the smallest skillet: the two big skillets and the Big pan interchange.
Question 02: What is the product dimension and shipping weight?
Answer: Product Dimensions: 22.5 x 10.5 x 13.8 inches ; 16.9 pounds & Shipping Weight: 16.8 pounds
Tips for Using SilverStone Ceramic CXi Nonstick 12-Piece Cookware Set
Once you purchase SilverStone Ceramic CXi Nonstick 12 Piece Cookware Set, remove all packaging labels and components. Wash with soap and water, then rinse thoroughly and dry with a soft kitchen towel to prepare the set for use.
Care and Cleaning
After use, let the pan or pot cool, then wash thoroughly. Use a soft sponge or a wool scratch-proof scouring pad that will not scratch the surface and wash with soapy water to remove all traces of food and oil in the cookware.
Though the cookware is dishwasher safe, handwashing is recommended, so make sure you handwash regularly.
Store the cookware unstacked. When clean and dry, remove any items that may scratch the ceramic. These include metal forks, knives, and spatulas.
Tips for Best Cooking Food and Frying Results
Cook on a burner of a similar diameter compared to the pan you are using.
Ensure the gasoline flame does not flare up the sides and remains at the base of the pan.
While cooking, if food sticks to the cookware, add some water to create steam that will dislodge the food.
Never preheat at a higher setting; give foods fresh from the fridge at least 10 minutes before cooking.
Try to use oils that burn at higher temperatures, such as olive, peanut, butter, and other essential oils. Rub them at the top of your pan for better results. However, avoid essential oil sprays that leave a residue that could create stains.
Final Verdict
I have used, researched, and read user reviews on the SilverStone Ceramic CXi Nonstick 12-Piece Cookware Set. I have to say it is a beautiful range of cookware. With its competitive pricing, high quality, performance, and easy maintenance, it is a versatile set that can last a long time if used well. Following the tips above will increase its durability and give you a fruitful relationship in the kitchen. It lends sophistication and fun to your kitchen and motivates you to cook; thus, win, win!