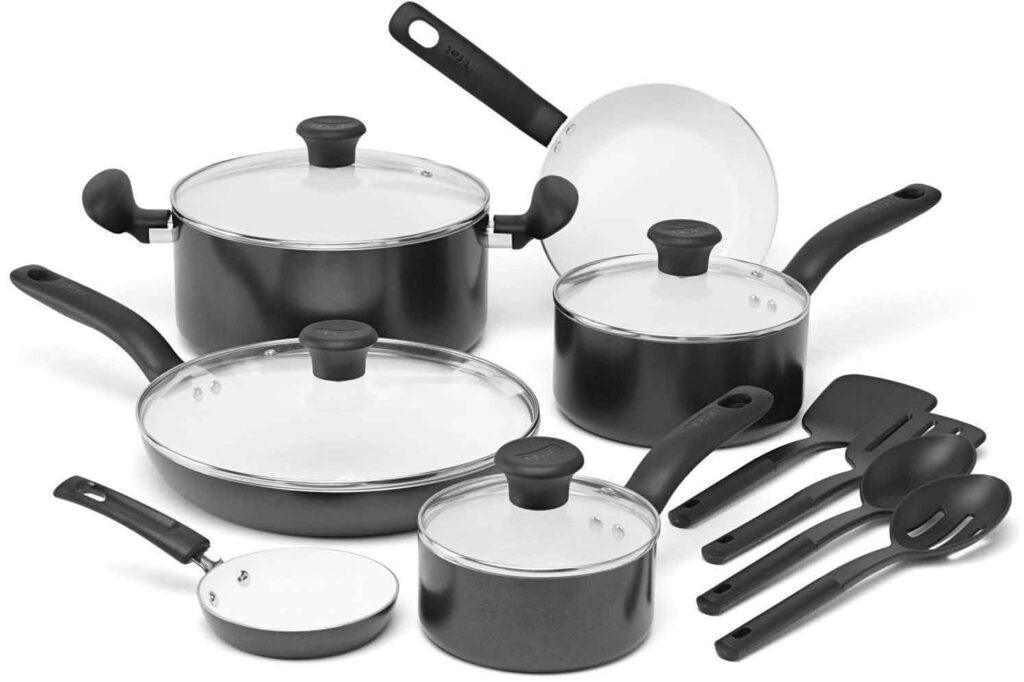 Need a delightful stylish cookware that is stress-free and easy to use? A cookware that is nonstick and resistant to heat? T fal C921SE Initiatives Ceramic Nonstick PTFE-PFOA-Cadmium Free Dishwasher Safe Oven Safe Cookware a cookware that is not only a pleasure to cook with, but also offers effortless cleaning. T-fal has been in the making of innovative cookware for many years so they are an experienced company.
This nonstick set comes in 14 pieces. Its ceramic coating makes it stain and scratches resistant to a high level. Whether you are single and live alone, or married with kids, you will enjoy cooking with this set of cookware.
T fal C921SE nonstick cookware set can be used by-
Young Families
Bachelors
beginners
Tantalizing Features of T fal C921SE
This cookware can resist the heat of up to 570 degrees, it's healthy to use, a bit light weight so you don't have to worry about tired arms and it is very convenient for anybody to cook with. Various qualities it consists of are-
It has glass lid
The glass lid makes it a classy and exciting piece. Having to watch the progress of your cooking through the glass lid is delightful. The lids have a little hole in it which is referred to as the steam whole. It allows for steam to escape from the pot which makes the glass not get too hot.
However, do not pour cold water on the lids. Because since they are made of glass a sudden change in temperature could make it break.
It is PFOA- PTFE, and cadmium free
PFOA also known as c8 is a synthetic carboxylic acid. It is toxic and is dangerous to the health. The presence of this chemical in your body can cause you kidney cancer, thyroid, high cholesterol problems, testicular cancer and, the list goes on.
On the other hand, PTFE is not toxic, but when put on a high temperature of over 680 degrees it generates other chemicals that are harmful to your health. Then Cadmium is a type of heavy metal, it is very toxic and, if a lot of it is inhaled, it could be very harmful to your health. Causing you muscle pain and high fever, weaken your bones, it also causes brain damage in children.
However, you don't have to worry about all that with this product. It is important to avoid any product that consists of these chemicals as they are hazardous to your health.
Its Body is Gauge Aluminum
It makes cooking very effective because the heat is evened out when put on a stock or cooker, its aluminum body heats up fast. That is why it cooks faster even if it's at a low temperature. Cooking under low temperature is advised with this set as the high temperature is not good for the lifespan of any cookware including this one.
The T fal C921SE Initiatives Ceramic Nonstick set can withstand the high temperature of up to 570 degrees on the hub and 370 degrees in the oven.
It has ceramic coating
The ceramic coating doesn't allow anything stick to it. It is perfect for scrambled eggs. It makes eating healthy a lot easier because you don't need to cook with oil or grease the pan before cooking. Food residue just slides out making cleaning effortless.
Versatile
This cookware serves many purposes. It can be used in the oven or on your cook top. The handles don't get hot. You can carry your pot or pan from cooker to surface or to oven in confidence as its handles stay cool so they are comfortable to carry.
Dishwasher and oven safe
Because this product can withstand the heat of up to 570 degrees, feel free to pop it into the dishwasher if you are too tired to clean it up and the oven if you feel like baking something. This cookware set is guaranteed not to get damaged.
This set comes with a set of cooking utensils you can use together with the pots and pans.
This product promotes healthy cooking and eating.
Cleaning is easy.
Gets hot quickly.
Withstands high temperature.
It is stain and scratch resistant.
Its handles are always cool.
This product may not be ideal for a large family as it doesn't come in large sizes.
Using an iron sponge to clean it can peel the coating and in time damage the pan. Always use a soft sponge.
Frequently Asked Question
Question 1: How do I tighten the handle screws? They're an odd star shape and not standard or Philips screws.
Answer: It is a Torx bit. You can find them anywhere tools are sold.
Question 2: One of the cautions said: "Aerosol spray is not recommended." Does that mean that I will no longer need to use Pam when I am cooking?
Answer: whatever you do you do not want to use non-stick spray. when you first get the pans take a small amount of olive oil on a paper towel and go over each pan. let the olive oil dry. after cooking immediately wash and hand dry your pan. from time to time you will need to reapply apply the olive oil. are use a microfiber wash cloth to wash mine with and I have never had a problem with scratching. However, I do not stack my pans together I have them hanging up.
Simple Tips That Can Keep Your Cookware Safe-
T fal C921SE Initiatives Ceramic Nonstick PTFE-PFOA-Cadmium Free Dishwasher Safe Oven Safe Cookware is a must have if you are looking for a healthy way to cook, are thinking of a good gift to buy a friend or if you simply love cooking. Here are some tips about this product;
If you need to cut down on your oil intake this T-fal set will cook your meal perfectly with no oil. Whether it's an egg or veggies you don't even need to grease your pot or pan.
Clean with a kitchen towel or just warm soapy water and a sponge. And your cookware will come out looking as good as new.
Its aluminum body makes it heat up quick, making it possible to cook your meal faster. No need to cook with a high temperature.
Even though it can take a temperature of up to 570 degrees, you are still advised to cook with a low temperature as it guarantees better cooking.
Its stay cool handles make it easy to move the pots and pans from cooker to cooker without fear of getting burnt.
Cooking under low heat and using a soft sponge for cleaning will prolong its lifespan.
Our Opinion
This cookware is ideal for young adults who have just moved into their first home, single men and women, couples or a growing family. It also comes in different variety of sizes.
T fal C921SE Initiatives Ceramic Nonstick PTFE-PFOA-Cadmium Free Dishwasher Safe Oven Safe Cookware is a great starter kit for anyone who is just buying his first cookware. Cooking is made easy because it heats up well and doesn't stick, cooks your meal the healthy way, it is nonstick so cleaning is easy breezy and, it comes in a variety of sizes. You can have a pan or pot for different cooking purposes.