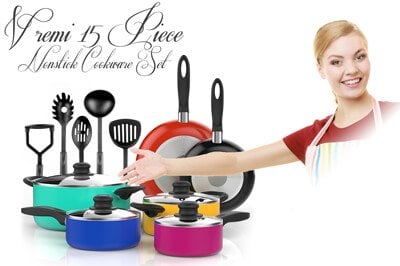 Similar to other skills, successful and healthy cooking will depend on the equipment that we use. The features available in the cookware are the make or break factors that influence your efforts of preparing delicious meals for your guest and family.
I always wondered about the main secret that behind the delicious omelets prepared by grandmother. Regardless of how much I tried, I could not match the results.
Having been determined to learn how to make my own, I watched closely without realizing that my pan was the main issue. After purchasing Vremi Nonstick pan, I realized that I could actually make delicious omelets similar to those I always craved for.
Exactly what is the Vremi 15 Piece Nonstick Cookware Set? How will it help you to improve your cooking? What about maintaining it? These are some of the questions that we are going to concentrate on.
Please read on to find out any other crucial information you need to know about this Best Vremi Cookware.
About Vremi cookware brand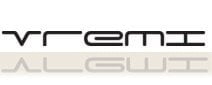 Over the last couple of years, Vremi has continued to gain a lot of recognition from users globally. This brand provides you with high-quality cookware that is affordable.
The main aim is to provide you with reasonably priced cookware set that comes with a stylish design to improve the look of your kitchen. The cookware from this brand feature impressive bright colors that will transform your dull kitchen to a modern and stylish kitchen.
The Vremi 15 Piece Nonstick Cookware Set features large and small fry pans and pots that meet your specific needs. They are well constructed and move from Stove-top to Oven without any trouble. Additionally, they are constructed using non-toxic PTFE that is free of PFOA. Here are the pieces included in this set.
1.5 qt. Saucepan qt. saucepan
qt. saucepan
5.3 qt. stockpot
2.1 qt. saucepan
Eight-inch frying pan
Ten-inch frying pan
Four glass lids for saucepans and stockpot
One ladle, one slotted spoon, one potato masher, one spaghetti scooper and one slotted spatula
Most important features of Vremi 15 Piece Nonstick Cookware Set
High-quality construction
This set is constructed using the latest technology to enhance its performance and durability. All the joints are well riveted to ensure long-term service.
The product is also constructed using high-quality materials that are resistant to warping.
Besides, it is oven safe up to 350 degrees F. this means that you can use it to cook almost anything including baked foods.
Nonstick coating
One of the standout features of this cookware is its exceptional design. It boasts a dual-layer interior coating that enhances its functionality and performance.
With these pans, you can effortlessly whip up delicious omelets, fry corn, or cook similar recipes using minimal oil. The nonstick coating ensures that food doesn't stick, making cooking and cleaning a breeze.
What sets this cookware apart is its PFOA-free nonstick coating, prioritizing your safety and well-being. Say goodbye to the worries of harmful substances and enjoy the peace of mind that comes with using this cookware. Plus, the nonstick surface means that cleaning up after cooking is a hassle-free task.
Stay cool handles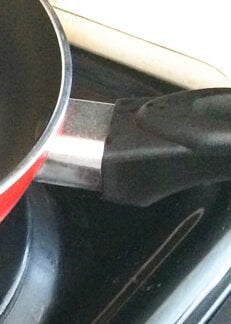 The set also comes with well-riveted handles that remain cool even after cooking for long.
The handles are triple riveted to enhance their durability.
They are also ergonomically designed to allow for a firm grip while still allowing for uniform weight distribution.
Thick aluminum base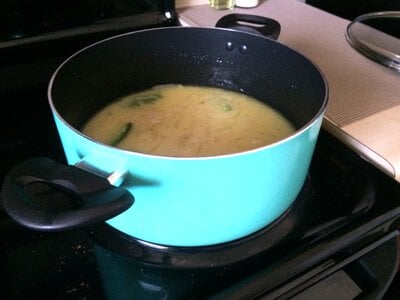 Vremi sets the bar high with its exceptional nonstick cookware, and one standout feature is its thick aluminum base.
Not only does this base offer remarkable durability, but it also ensures rapid and consistent heating of your food. The benefit? You save on gas and electricity, making it an energy-efficient choice. With even heat distribution, your meals are cooked to perfection, preserving their delicious taste and flavors.
Similar to some stainless steel cookware, this model excels in its ability to cook faster and more efficiently, providing you with quick and convenient meal preparation. Enjoy the benefits of efficient cooking and savor every bite of your culinary creations.
Tempered glass lids
You will also love the tempered glass lids that can withstand high temperature. These glass lids are also broken resistant, making them easy to use and durable.
One of the main advantages of using glass lids is that they allow you to observe the cooking progress without having to lift the lid.
Affordable- Vremi 15 Piece Nonstick Cookware Set is a great choice for budget conscious users who would want to find a high-quality cookware that is reasonably price.
Easy food monitoring- It is disappointing when you have to deal with that hot steam every time you check the cooking progress. To avoid, Vremi 15 Piece Nonstick Cookware Set come with clear lids that allow you to observe the process without lifting the lid.
Safe to use- the cookware comes with safe nonstick coating that is free from harmful chemicals.
Durable- the Vremi 15 Piece Nonstick Cookware Set is also constructed with durable aluminum material that allows for quick and even heating.
Limited heat in the oven- The Vremi 15 Piece Nonstick Cookware Set can handle up to 350 degrees F in the oven. This means that if you need a higher temperature, especially in baking, you cannot use this set.
Tips while using Vremi 15 Piece Nonstick Cookware Set
From cooking to cleaning, the following tips will help to use and maintain your Vremi 15 Piece Nonstick Cookware Set effectively.
Washing
Similar to other ceramic cookware, to keep this nonstick cookware in top condition, you should avoid using the dishwasher. Instead, hand washing is recommended. Use warm water, mild dish washing detergent, and a soft sponge.
Avoid using metallic brush or sponge as this can scratch the interior. After washing and drying, you should repair the surface by pouring a little amount of vegetable oil, rub it into the interior surface, and wipe the excess with a paper towel.
Why do we call it the best package for you?
---
This is a great choice especially if you are looking for a great gift for your mom, newly weds, and any other person who love cooking. They come with a great look that will transform their look of their kitchen. The set is also easy to clean and last for a long time.
The set is all-inclusive. This means that you will get each piece that you will need to prepare delicious meals. The set comes with several pots and pans helping you to prepare you a full course meal. Unlike other sets where you need to look for additional pieces, you will get everything you need in this set.
We were impressed with the cookware price tag. Despite its low price, it does not mean that it compromises on performance. In fact, this model performance can be compared to other brands that are almost double its price. Additionally, this set is designed with the latest technology that ensures a stylish and ergonomic design that will surely lighten a dull kitchen.
The Vremi 15 Piece Nonstick Cookware Set comes with amazing features and a price that is hard to beat. It is also well constructed to give you a performance you can rely on for long. This is a perfect choice for individuals looking for an affordable nonstick cookware that does not sacrifice its performance and durability.