Thinking of replacing your cookware with new ones, or are you simply moving into a new house and would like your kitchen to look nice and posh? Then you should buy one that complements and also accessorizes your home. Cook N Home NC 00359 Nonstick Ceramic Coating 10 piece cookwares set will not only glam up your kitchen, it will save you money, put a pop of color and add style and class to your kitchen.
This product is durable and because it's non-stick and ceramic it is a very safe way to cook.
Whom is cook n home nc-00359 nonstick ceramic coating designed for?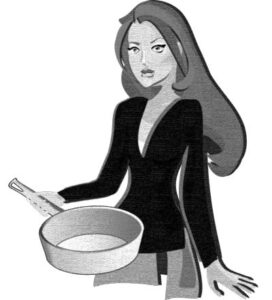 The non-stick cookware could be used by
Chefs
Housewives
Learners
Beginners
Nonstick ceramic coating cookware has various qualities that put it at the top of the list of best cookwares in the market.
What's in Box:
Cook N Home NC 00359 Nonstick Ceramic Coating 10 Piece Cookware set includes: covered Dutch oven 5-Quart, covered casserole 3 Quart, covered sauce pan 1 Quart, covered sauce pan 2 Quart, fry pan 8 inch, fry pan 9.5 inch Fry Pan.
Nonstick Ceramic coating is PTFE-Free, PFOA-Free, cadmium and lead free, compare to traditional nonstick coating system, ceramic coating provide superior non-stick performance with resistant to scratch. Cookware use thick gauge Aluminum provide super heat conductive without any Hot-spot in bottom, Anti-slip coating on handle provide a soft feeling when touch handle, make it comfortable and stay cool during cooking.
Features of

Cook N Home NC 00359 Nonstick Ceramic Coating

cookware set
PTFE-free and PFOA -free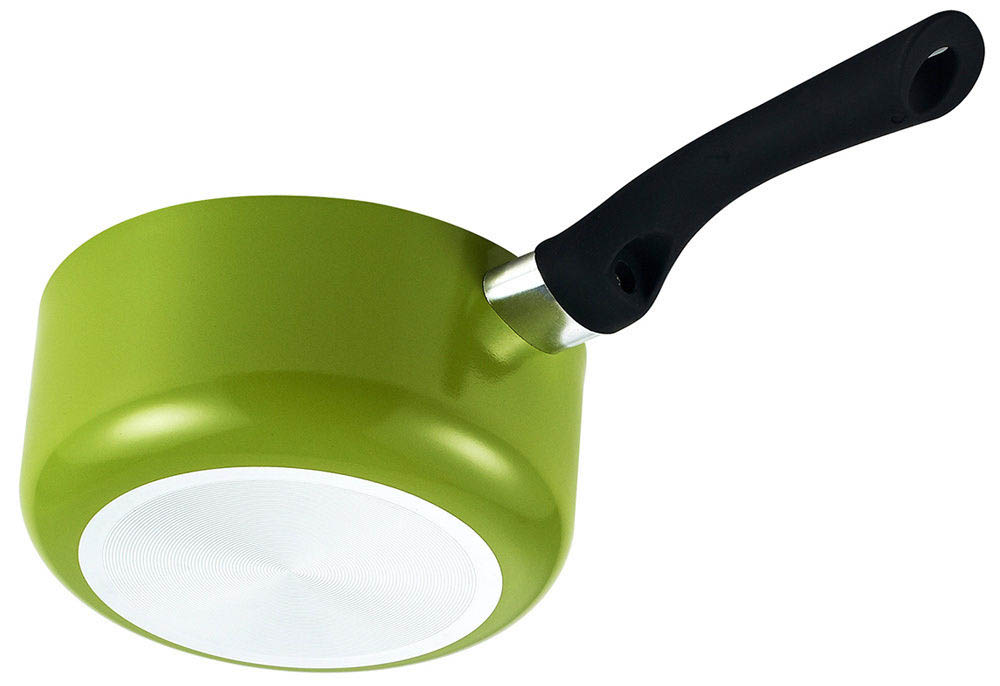 This Cook N Home NC 00359 Nonstick Ceramic Coating cookware is PTFE-free and PFOA-free. It's also lead- free and cadmium free. These chemical components are found in most nonstick cooking utensils. The presence of these said chemicals can cause heart liver thyroid and immune system problems which can very well lead to a chronic disease and even death.
The absence of these chemicals in this nonstick ceramic coated pots and pans makes it a healthier option for cooking.
Anti-slip Handles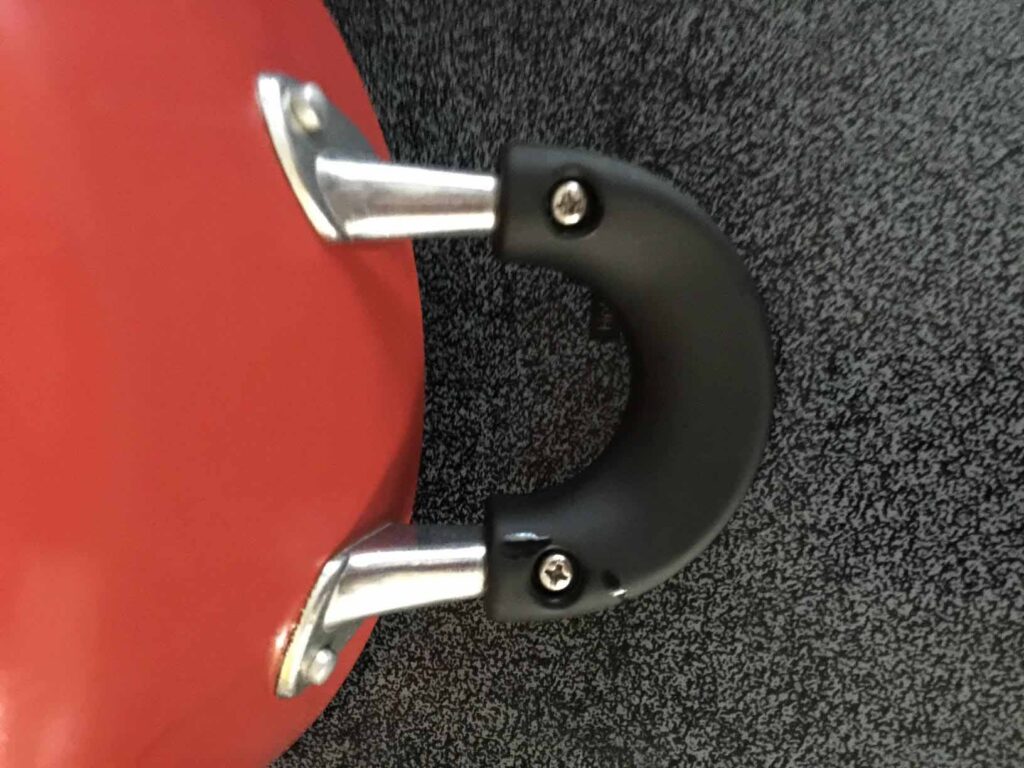 Its anti-slip coated handles make it easier and delightful to carry the pot – giving that the handles are soft feel to it and, no matter how hot it maybe, the handle stays cool making it comfortable to carry from surface to surface.
Resistant to Scratch and Corrosion
Cook N Home NC 00359 Nonstick Ceramic Coating Cookware Set is resistant to scratch and corrosion, so you can use metal appliances with it and not worry about it getting scratched. However wooden spoons and spatulas are always better for stirring. Its non stick, so even though you forget your potatoes on the cooker and comeback finding it all dried up and burnt, this cookware will wipe clean easily.
You don't need to use a scouring powder or iron sponge. All you need to do is wipe clean or use a soft soapy sponge.. In most cases you don't even need to sock in soapy water.
Nonstick Cookware
This Cook N Home NC 00359 Nonstick Ceramic Coating cookware requires little or no oil or butter as it won't let anything stick to it. For those who are on a diet or watching their weight, you can fry an egg comfortably without any oil or just a drop of oil. It promotes healthy eating and makes dieting a lot easier to achieve.
Heavy Gauge Aluminum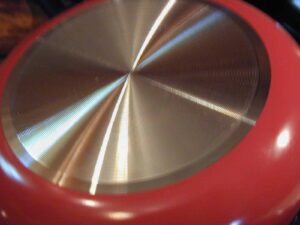 With this cookware you don't need to cook with a high temperature as the aluminum heats up quick. The heavy gauge aluminum evens out the heat distribution ensuring that energy is not lost.
It also prevents hot spots in cooking so everything is cooking at the same temperature and will be ready at the same time with minimal heat.
Delightful Red & Green Color

Whether you are looking to accessorize your kitchen or make it look posh and classy, this Cook N Home NC 00359 Nonstick Ceramic Coating cookware should fit in. its delightful red & green color will accessorize your kitchen like no other and give it the classy look you are looking to achieve.
Glass lids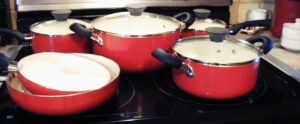 Its glass lids makes it possible to view your cooking from the beginning of your cooking to the end and also makes it look more beautiful.
This cookware is not only a joy to cook with it's also a beautiful piece of art suite for your kitchen. If you are looking to get a nonstick cookware, that adds a touch of style and class to your kitchen while being durable and not hazardous to health, then go for "Cook N Home NC 00359 Nonstick Ceramic Coating 10-Piece Cookware Set". It is a very high quality cookware that has ceramic coating which makes all cooking utensils durable to a high standard.
It's easy to clean: You don't have to put them in the dish washer to get them clean. Just an effortless wipe will do the trick.
It is safe to handle: It's coated with ceramics for safer cooking, (also known as fool proofed cookware) so even a novice or a learner can cook with confidence, knowing that his/her cooking can hardly get burnt.
It is durable: You can use this cookware to do all the cooking methods with the exception of induction. Its surface can stand a temperature of up to 700 Degrees F; it can stand oven temperature of up to 350 degrees f. and can also be washed in the dish washer.
It is a healthier way of cooking: This product is free of chemicals that pose a health hazard
Fat intake can be reduced: Oil consumption can be reduced or cut out as this cookware is nonstick
Saves energy: You don't have to cook with a high temperature because the material used to produce it evens out the heat and allows it to heat up fast.
It is safe to handle: Its anti-slip/ anti-heat handle protects your hands from getting burnt by the heat.
A bit expensive: In most cases buying the best quality of cookware may require spending more money.
Frequently Asked Question
Question- Can they be used in the oven? If so up to what temp?
Answer: No you can't. The handles will melt. Users pans got damaged for excess heat around 370F.
Question: Are the bottoms of the pots/pans covered in enamel too?
Answer: Pans are fully LINED inside with ceramic, and have a Spiral Aluminum Bottom when you turn them upside down. The outer sides are a lovely green color.
Question: The description says "Note: Induction cooktop not compatible." What does it mean by that?
Answer: The cookware is made of aluminum. Induction cooking appliances like the "NuWave Cooktop" require the cookware to be made of cast iron or stainless steel material in order to work. However, there are interface disks that will work with aluminum cookware in order to use an induction cooking appliances.
Tips for using the product
Thus, as with most other cookware, carelessness can cause damage. Cooking with a very high temperature can damage your pot. Cook with a low temperature it guarantees better cooking, your cookware will last longer, you save energy and because of what material this cookware is made of, the aluminum gets hot fast.
Care and Cleaning
The exterior is also easy to clean as it is color paint and can also resist high temperature. All you need is a cloth to wipe clean or a soft soapy sponge.
Useful Tips upon Lid use
The lid is transparent made of sturdy glass, its break proof and has a steam hole that lets out all the steam while you are cooking.
Recommendation for Best Cooking Food and Frying Results
These days choosing the right cookware can be challenging considering the competition in the market. There are various types of cookware made from different materials ranging from stainless steel, to iron ore. Then there is ceramics and enamel etc. ceramics coating is so far the best, safest and healthiest option. So chose wisely.
Our Opinion
The Cook N Home NC 00359 Nonstick Ceramic Coating 10-Piece Cookware Set is considered to be one of the cheapest pots and pan out there and this has made so many people skeptical about its quality. However, when it comes to this product, association its price with its quality and durability would be a huge mistake to make. This product features lots of amazing benefits you wouldn't dare to miss, plus – it's cheap; and compared to other available options of non-stick cookware ceramics, this is considered a healthier, and extension the best option.