If this is your first rodeo designing a kitchen, you should know that designing a kitchen is one of the most exciting home improvement projects, but it can also be stressful and time-consuming.
Amongst other things, designing a kitchen requires putting your thinking cap on and planning the layout, choosing a sink style, picking a backsplash, and coordinating colors.
However tempted to walk into a showroom and pick a design, it is essential to take some time to think about your wants and needs so that you can end up with a luxe interior design that is both functional and stylish.
Below, we provide practical steps to follow to design your kitchen in 2022.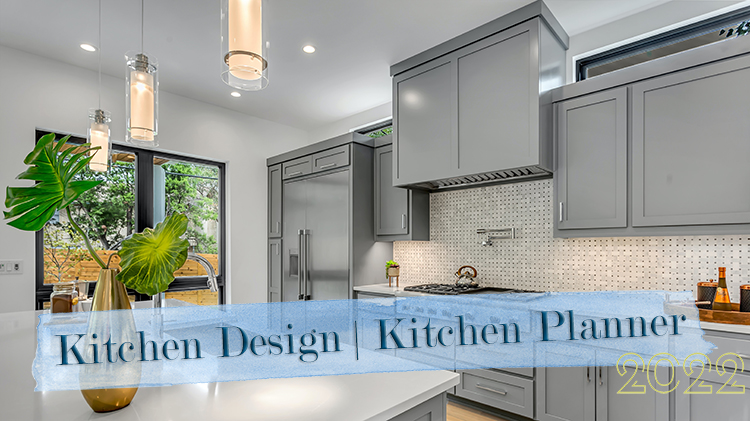 Step 1: Think about How You Will Use Your Kitchen
Before you start designing your kitchen, you must think about how you will use your kitchen. Think about:
How you want to entertain
How you want to clean up after cooking
How you want to prepare and cook food
What fixtures and appliances you need for cooking
What activities will happen in your kitchen apart from cooking?
When you know how you will use your kitchen, you will be able to design it in a way that meets your needs as well as that of your family.
Step 2: Create a Wall and Floor Plan
Next, create a plan for the wall space and the floor space. Kitchens are designed in inches, so take your time and measure doors, windows, niches, floor dimensions, and where the gas supply and water pipes come up from the floor.
Then, draw up the plan either on paper or using an online kitchen planner. Mark the exact location of external and internal windows and doors so that you have the best flow between your kitchen and the rest of the house.
Step 3: Plan the Layout of Your Kitchen
If you are going for a luxe interior design, there are six layout designs from which you can choose. These include:
The Galley Kitchen
The Island Kitchen
The L-Shaped Kitchen
The U-Shaped Kitchen
The Peninsula Kitchen
The One-Wall Kitchen
After choosing a layout, go back to your paper plan or online kitchen planner and outline where you will place wall cabinets, base cabinets, the refrigerator, the stove, the sink, and the island in the plan view (as seen above).
Step 4: Research Your Fixtures and Appliances
You probably know which fixtures and appliances you need. Now, you need to be more specific about what you want. Ask yourself the following questions:
What countertop do I want?
What features do the appliances I want to have?
How much do the fixtures and appliances I want cost?
Do the appliances I want come in the finish I am looking for?
Do the fixtures I want come in the size and configuration I want?
It would also really help if you could identify the specific models you want.
Step 5: Place the Fixtures and Appliances
Draw the fixtures and appliances onto your kitchen plan.
Step 6: Plan Detailed Storage
Fill the wall plan with all the fixtures you plan on installing.
Step 7: Look for Lighting Options
There are different lighting options from which you can choose:
Ceiling spotlights can be used to supplement wall lights;
Accent lighting can include pendants for a dining table or an island;
Task lighting illuminates the cooker, work surfaces, and sink area;
Ambient lighting creates a uniform level of light throughout the kitchen;
For a luxe interior design, you can consider lighting cabinet interiors to showcase your tableware.
Step 8: Plan the Electrical Points
This step involves planning your kitchen's electrical points (switches and outlets for appliances). Ensure you plan separate lighting circuits to operate the different lighting options you choose individually. Some options for outlets on your island or countertop include:
Under Cabinet Position
Under Counter Outlet Strips
Hidden Kitchen Island Outlets
Step 9: Find Your Kitchen Company
If you have a standard-size kitchen, you should work with an off-the-shelf kitchen company because off-the-shelf companies deal with standard sizes and a wide range of finishes.
If you want a custom kitchen, you should work with a custom company because custom companies can accommodate your unique design ideas and help you bring your vision for your luxe interior design to life.
Design a Luxe Kitchen With These Simple Steps
As you can see, designing your luxe kitchen does not have to be daunting. When you follow these nine steps, you will find that designing your kitchen will be incredibly easy, and at the end of the project, you will end up with your dream space.
Having a kitchen with luxe interiors and finishes does not mean you need to invest heavily in every fixture; use the services of a qualified interior for the best results.