If you're seeking to enhance the layout of your kitchen, add a personal touch to its design, or make it more accessible for a disabled family member, a kitchen remodel can fulfill those goals.
However, before diving into a kitchen remodel project, it's crucial to enlist the services of a skilled remodeling contractor who can handle the heavy lifting. The contractor you choose will greatly impact the final outcome of your kitchen, making it vital to select the right individual for the job.
In the following section, we present eight valuable tips to guide you in hiring the perfect remodeling contractor for your kitchen renovation.
#1: Ask Any Questions You May Have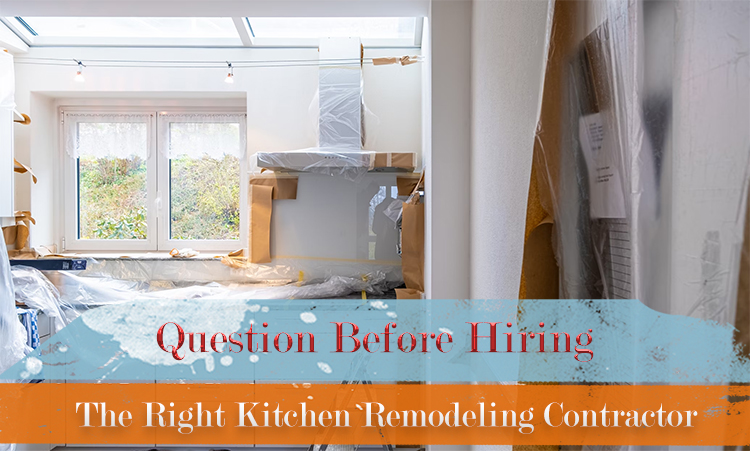 Before you hire a kitchen remodeling contractor, you should ask questions such as:
Are you licensed, bonded, and insured?
What is your typical payment schedule?
Will you provide a quote or an estimate?
Can you provide a list of references?
What is the expected timeline for this project?
How do you communicate with your clients?
Will you obtain all the required building permits?
How will you clean up at the end of the workday?
Can I have a list of your suppliers and subcontractors?
If the potential contractor checks all the boxes on your list of questions, you should consider hiring them for your kitchen remodel project.
#2: Referrals and Reviews
When it comes to finding a suitable remodeling contractor, one of the simplest approaches is seeking out word-of-mouth referrals. Reach out to your co-workers, neighbors, friends, and family members who have either recently completed or are currently undergoing remodeling projects and ask for their recommendations.
Additionally, you can explore testimonials posted on local business platforms such as the Better Business Bureau, as well as social media project sites like Yelp or Houzz. These reviews offer valuable insights into the professionalism and reliability of prospective remodeling contractors, serving as social proof of their credibility.
#3: Go For Experience
An experienced kitchen remodeling contractor has the skills and expertise to handle large-scale projects. They can safely manage tasks like expanding your kitchen or removing walls.
Moreover, they will ensure that your design requirements are met and that the remodel complies with building codes. Additionally, they will promptly address any potential design flaws, preventing them from turning into major or costly problems.
#4: Look at the Credentials
When considering a remodeling contractor, it is essential to verify if they are licensed, bonded, and insured. Request the contractor's license number and contact your state's licensing board to validate its authenticity.
Additionally, ask the contractor for their certificate of insurance (COI) and contact the insurance policy carrier to ensure that the coverage is up to date. It's important to remember that accidents can occur during the project, and you want to avoid being held responsible for any medical expenses.
#5: Explore the Design Portfolio
You want your remodeling contractor to showcase different design examples and innovative design projects they have executed throughout the years. It is also important to hire a contractor who knows how to design and construct the desired design style for your kitchen.
A professional remodeling contractor will have a portfolio of previous projects showing their quality of work and the different design directions they can take.
#6: Stay Local
It is almost always best to consider hiring a local remodeling contractor. A local remodeling contractor is more invested in providing the highest quality of work that will bring your vision of your kitchen to life and win you over as a repeat client for future projects.
Also, a local remodeling contractor knows all the building codes and permit requirements in your city that usually change yearly.
#7: Build a Connection with the Contractor
Before hiring a kitchen remodeling contractor, ensure you get along well with the contractor. Ensure that the contractor is easy to talk to, answers questions well, and explains all aspects of the projects in detail.
You also want to ensure that the contractor understands your vision for your kitchen and is experienced in the design style you want.
#8: Get Everything in Writing
Before kickstart your kitchen remodel project, ensure that you get everything in writing. Your kitchen remodel contract should include:
Total costs;
Detailed Time Frames;
Payment Arrangements;
Contractor's Contact Information;
Line Itemization for Specialty Materials;
How to Handle Additional Costs Should any Come Up; and
The Project Description and the Names and Contact Information of Parties Involved.
Be wary! If the remodeling contractor does not give you a specific timeline, it might mean that the contractor will not complete your project on time.
A kitchen remodel is arguably the most exciting home improvement project. The opportunity to install luxurious finishes, add more cabinets, and improve the ease of cooking with more counter space can be all-consuming.
Hire the Right Remodeling Contractor
But, before you become too consumed, you need to hire a remodeling contractor. With the above tips, we are confident that you will hire the right contractor for your kitchen and get the desired results.