Whether you are looking to improve the layout of your kitchen, personalize your kitchen to your design preferences, or accommodate the needs of a disabled family member, a kitchen remodel will help.
Before you embark on a kitchen remodel, you need to hire a remodeling contractor to do the heavy lifting. Your choice of contractor will determine how your kitchen will turn out, so it is important to hire the right person for the job.
Below, we provide eight valuable tips on hiring the right remodeling contractor for your kitchen.
#1: Ask Any Questions You May Have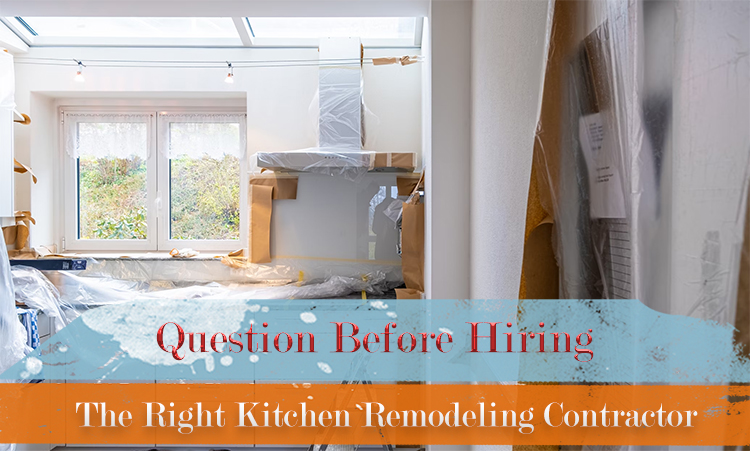 Before you hire a kitchen remodeling contractor, you should ask questions such as:
Are you licensed, bonded, and insured?
What is your typical payment schedule?
Will you provide a quote or an estimate?
Can you provide a list of references?
What is the expected timeline for this project?
How do you communicate with your clients?
Will you obtain all the required building permits?
How will you clean up at the end of the workday?
Can I have a list of your suppliers and subcontractors?
If the potential contractor checks all the boxes on your list of questions, you should consider hiring them for your kitchen remodel project.
#2: Referrals and Reviews
One of the easiest ways to find the right remodeling contractor is through word-of-mouth referrals. You can ask your co-workers, neighbors, friends, and family who are undergoing or have undergone remodels for their referrals.
You can also review testimonials on local business sites like the Better Business Bureau and social media project sites like Yelp or Houzz. Reviews provide valuable social verification of the professionalism and trustworthiness of your potential remodeling contractor.
#3: Go For Experience
A remodeling contractor who has been remodeling kitchens for several years has the experience and skill needed to safely handle enormous projects like adding additional square footage to your kitchen or knocking down a wall.
Moreover, an experienced remodeling contractor will take care of your design needs while keeping the remodel up to code and address any design flaws before they morph into serious or costly problems.
#4: Look at Credentials
Is your potential remodeling contractor licensed, bonded, and insured? Ask the contractor for their license number and get in touch with your state's licensing board to confirm the validity of the license.
Also, ask the contractor for their certificate of insurance (COI) and reach out to the insurance policy carrier to confirm that the coverage is current. Remember, accidents can happen on the job, and you do not want to be held liable for medical expenses.
#5: Explore the Design Portfolio
You want your remodeling contractor to showcase different design examples and innovative design projects they have executed throughout the years. It is also important to hire a contractor who knows how to design and construct the desired design style for your kitchen.
A professional remodeling contractor will have a portfolio of previous projects showing their quality of work and the different design directions they can take.
#6: Stay Local
It is almost always best to consider hiring a local remodeling contractor. A local remodeling contractor is more invested in providing the highest quality of work that will bring your vision of your kitchen to life and win you over as a repeat client for future projects.
Also, a local remodeling contractor knows all the building codes and permit requirements in your city that usually change yearly.
#7: Build a Connection with the Contractor
Before hiring a kitchen remodeling contractor, ensure you get along well with the contractor. Ensure that the contractor is easy to talk to, answers questions well, and explains all aspects of the projects in detail.
You also want to ensure that the contractor understands your vision for your kitchen and is experienced in the design style you want.
#8: Get Everything in Writing
Before kickstart your kitchen remodel project, ensure that you get everything in writing. Your kitchen remodel contract should include:
Total costs;
Detailed Time Frames;
Payment Arrangements;
Contractor's Contact Information;
Line Itemization for Specialty Materials;
How to Handle Additional Costs Should any Come Up; and
The Project Description and the Names and Contact Information of Parties Involved.
Be wary! If the remodeling contractor does not give you a specific timeline, it might mean that the contractor will not complete your project on time.
A kitchen remodel is arguably the most exciting home improvement project. The opportunity to install luxurious finishes, add more cabinets, and improve the ease of cooking with more counter space can be all-consuming.
Hire the Right Remodeling Contractor
But, before you become too consumed, you need to hire a remodeling contractor. With the above tips, we are confident that you will hire the right contractor for your kitchen and get the desired results.